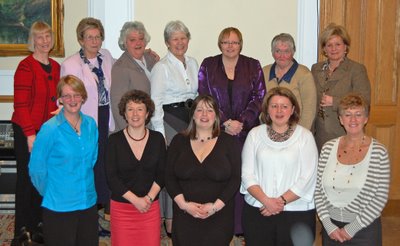 Midlothian County Past Champions


Back row L to R: Marion Quigley, Ethel Jack, Joan Marshall,
Fiona Verth, Elaine Bruce, Sheila Little and Fiona deVries
Front Row L to R: Claire Hargan, Belinda Murphy,
Claire Provan, Karen Marshall amd Fiona Hunter
Mary Norval and Margaret Allen, who were both at the lunch, managed to escape the photograph!
Double click on the image to see a larger version in its own window.
Edinburgh didn't know what hit it yesterday, when 177 Midlothian members and guests descended on the Roxburghe Hotel for a luncheon to celebrate the centenary of the County Association.
Many people got there early so as not to miss any of the fun, and they were not disappointed. County Captain Tracy Laughland welcomed guests from the neighbouring counties, East Lothian, Fife and Stirling and Clackmannan, as well as MCLGA sponsors, Jill Dumayne from The Ladies Golf Centre and Ian Young from the Braid Hills Driving Range. The guest list also included representatives of the Scottish Universities Golfing Society, against whom Midlothian have played in an annual match since 1930.
Before lunch Centenary Chairman, Gillian Kirkwood, set the scene with a description of the start of the Midlothian County club, Past President, Sue Caton said Grace and the assembled company tucked in to a delicious meal.
During the meal a prize draw for a round with friends at Archerfield, donated by Ian Young, was won by Past Captain, Elizabeth Rose, who had journeyed from her home near Aboyne to be present.
The speeches after lunch were not short of sensational.
The toast to the Game of Golf was given by Helen Faulds, a Past Captain and Past President of Dunbartonshire and Argyll County LGA. Her humourous and witty speech was interupted by a fire alarm, which only added to the occasion as doors to George Street were opened and 177 lightly dressed people trooped out onto the street on a bitterly cold Edinburgh afternoon. Spirits were high and everyone remained cheerful… it gave some another chance to have a chin-wag with long-lost friends. After about 15 minutes the all-clear was given and the company resumed their seats… Helen carried on as if nothing had happened and, at its conclusion, her scintillating speech received a standing ovation.
Janet Wake, Executive Director of the SLGA, and a past Captain of Midlothian, had a hard act to follow. Her well thought out reply, with her theme of Burns at its centre, was appreciated by the audience.
Nigel Watt, Past Captain of the Scottish Univerities Golfing Society toasted the Midlothian County Ladies Golf Association, and regaled the company with some of the history of the annual fixture between MCLGA and SUGS, in particlar mentioning some of the personalities who played and some of the funny stories from the match that he remembered.
Margaret Rodgers, President of MCLGA, replied and also added some of her own reminiscences to the occasion. Camaraderie and friendship were the themes that ran through all the speeches, and the audience certainly appreciated the efforts of all the speakers.
Who would be more appropriate to have the last word than Ethel Jack, current President of the SLGA, and a Past Champion, Captain and President of Midlothian? True to form, and in her own inimitable way, Ethel gave a Vote of Thanks that was truly memorable. The County Secretary, Agnes Leslie and Past Captain, Margaret McPherson, were particularly mentioned as instrumental to the success of the event.
The event eventually finished at the Roxburghe at 4:30 pm.
Reports of an invasion of middle-aged women to Tiger Lilys with Baberton and Kingsknowe competing to see who would be the last to leave in the small hours, have not been exaggerated. [I've been asked to point out that not every-one was middle-aged…. there were some younger members there!]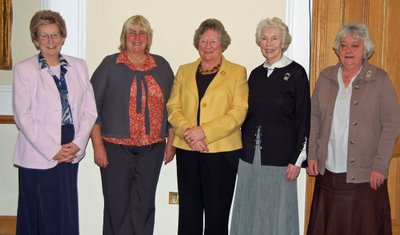 Midlothian Past Presidents


L to R: Ethel Jack, Sue Caton, Margaret Rodgers (current President), Sheena Crearie, Joan Marshall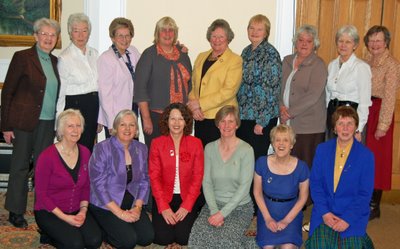 Midlothian Past Captains


Back Row L to R: Helen Shah, Barbara Cooper, Ethel Jack, Sue Caton, Margaret Rodgers,
Anne Brownie, Joan Marshall, Fiona Verth, and Elizabeth Rose.
Front Row L to R: Ellice Cackett, Gillian Kirkwood, Karen Ballantyne,
Tracy Laughland (current Captain), Margaret McPherson and Janet Wake.

Midlothian Centenary starts with a bang!